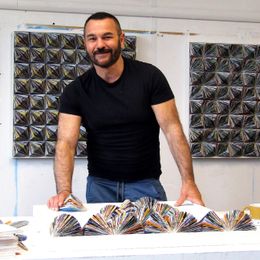 ALBERTO FUSCO
LONDON, United Kingdom
10 products in catalog
About
EDUCATION
B.A HONOURS FINE ART (Roehampton University)
PGCE /PCE (LLS:DTLLS) (Greenwich University)
FOUNDATION IN FINE ART (Kensington & Chelsea College)
BTEC PROFESSIONAL DEVELOPMENT IN SCULPTURE (KCC)
VISUAL ARTS AND TECHNOLOGY MULTIMEDIA PHOTOSHOP (KCC)
Alberto Fusco is a London-based Italian artist, internationally sold and exhibited. Born in Naples (Italy), Fusco has been creative since a young age, leading him to study art and become the assistant of prominent contemporary Neapolitan artists. To further pursue his passion for figurative art, in particular sculpture, in 1994 Fusco decided to move to London to expand his artistic study and practice, earning a BA (Hons) in Fine Art from Roehampton University with a specialization in the art of mosaics.
At present, Fusco's practice revolves around giving life to artworks by utilizing recycled paper magazines that would otherwise be discarded and thrown away. This practice is particularly relevant in a society that is only now coming to terms with sustainability of the planet for future generations. His artworks are created by meticulously folding and manipulating recycled magazine papers, transforming them into textural geometrical forms, which ultimately develop into sculptural pieces of their own right.
EXHIBITIONS
December 2019 Art For Youth Mall Gallery London
December 2018 Art For Youth Mall Gallery London
March 2018 Eclectic Collections Ackerman Studios & Tag Fine Arts Gallery
September 2017 Where Art Meets Design This Autumn Tag Fine Arts Gallery
January 2017 Finders Keepers Group Exhibition Will's Art Gallery
December 2016 Gallery artist exhibition Mark Jason Gallery
September 2016 Tribe16 Group Exhibition
December 2015 Exhibit Here's Art Maze Group Exhibition
September 2015 Art Gemini Prize ,Group Exhibition
June 2014 Clapham Art Prize Group Exhibition
February 2014 Spring Exhibition. Medici Gallery Cork Street
December 2013 Winter Exhibition. Medici Gallery Cork street
August 2013 Open Exhibition Cork Street Gallery
March 2013 ART SPACE The Office Group. Group Exhibition
December 2012 Beyond the Image. Espacio Gallery Group Exhibition
May 2012 Rock Paper Scissors Store Street Gallery Group Exhibition
February 2012 Love is. The London pop up Gallery. Group Exhibition
PRIZES AND AWARDS
Art Space Prize 2012 The Office Group One year 'Every Room' full membership.
ART FAIRS
October 2018 AAF Battersea
May 2019 AAF Hong Kong
March 2019 AAF New York
November 2018 AAF Singapore
October 2018 AAF Battersea
May 2018 AAF Hong Kong
March 2018 AAF New York
November 207 AAF Singapore
October 2017 AAF Battersea
October 2017 AAF Stockholm
June 2017 AAF Hampstead
May 2017 AAF Hong Kong
March 2017 AAF New York
February 2017 AAF Brussels
July 2016 Urban Art Fair, London
March 2016 AAF Battersea
September 2015 Brighton Art Fair
July 2015 Urban Art Fair, London
March 2015 AAF Battersea
September 2014 Buy Art Fair Manchester
July 2014 Urban Art Fair, London
March 2014 AAF Battersea
October 2013 The Other Art Fair
September 2013 Buy Art Fair Manchester
October 2013 AAF Stockholm Art Fair
July 2013 Urban Art Fair, London
April 2013 The Other Art Fair
November 2012 AAF Hampstead
November 2012 The Other Art Fair
July 2012 Urban Art Fair
May 2012 The Other Art Fair
Products offered by ALBERTO FUSCO