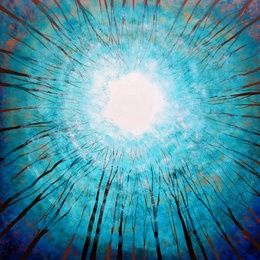 Amanda Horvath Art
High Peak, United Kingdom
About
Amanda studied fine art at Sheffield Hallam University, where she achieved a BA Hons (1st class). Subsequently, she lectured in colleges. Now, Amanda concentrates on the discipline of painting, having made her home in the hills of Derbyshire, which fills her with endless inspiration.
Painting is a response to the beautiful landscape around me; the experience of being in the place is as much an important part of the process as drawing. I attempt to capture the spirit of the land and that quiet sense of tranquillity that coexists with a closeness to the natural world. I'm moved by dramatic light sweeping over the rugged elements chased by clouds and the timeless changing sea when visiting the coast. I have a passion for expressing nature in bright, vivid colours and nothing gives me more pleasure than when people say they love their painting.
Working from keen observation of nature, Amanda gathers visual information with a sketchbook or camera and often begins a canvas en plein air, finishing these preliminary pieces in her studio. Working expressively in acrylics or oils, often with a palette knife or other mark-making techniques, she applies layer upon layer until the painting reaches a natural conclusion.
Amanda exhibits her paintings widely, and her paintings have found homes with private collectors in the United Kingdom, Europe, United States, Asia, and Australia.
Shows
2022 • Edinburgh Art Fair, O2 Academy Edinburgh,, Edinburgh, United Kingdom
2022 • Dream Trees, Beauliue Fine Art, New Forest, United Kingdom
2022 • Fresh Art Fair, Art Fair, Ascot, United Kingdom
2022 • The Light Beyond, Eclectic Gallery, London, United Kingdom
2022 • Affordable Art Fair Battersea with Wey Gallery, Battersea, London, United Kingdom
Products offered by Amanda Horvath Art