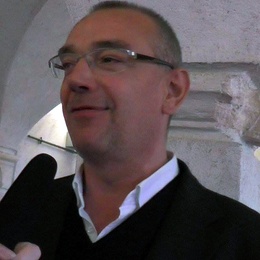 Andrea Benetti
Bologna, Italy
7 products in catalog
About
Treccani Encyclopedia:
https://www.treccani.it/enciclopedia/andrea-benetti
De Agostini Encyclopedia
https://www.sapere.it/enciclopedia/Benetti%2C+Andrea.html
WikiArt - Visual Art Encyclopedia:
https://www.wikiart.org/en/andrea-benetti
Wikipedia - The free Encyclopedia:
https://fr.wikipedia.org/wiki/Andrea_Benetti
Sito ufficiale in italiano:
https://www.andreabenetti.com
Official site in english:
https://www.andreabenetti.eu
Born in 1964, Andrea Benetti created and drew up the "Manifesto of Neo Cave Art" presented at the 53rd Venice Biennale, in the pavilion called "Nature and Dreams", located at the Ca 'Foscari University. Conceptually, the Manifesto is inspired by the genesis of art. In his works, Andrea Benetti cites, transfigures, plays, reinvents concepts and forms of Cave painting, creating an ideal bridge between the genesis of art and its contemporaneity. He has collaborated and still collaborates to the realization of projects with various Italian and foreign universities, including the John Hopkins University, the University of Bologna, Ferrara, Roma Tre, Lecce, Bergamo, Bari. These universities have carried out research on his art. Benetti's works are present in collections all over the world. In addition to the museums of contemporary art in Italy and abroad and prestigious private collections, including the United Nations, his works are present in the Quirinale (seat of the President of the Italian Republic), in the Italian Parliament, in the Vatican, in various Embassies. For this reason, he was received at the Quirinale (seat of the President of the Italian Republic), in the Chamber of Deputies (Italian Parliament) and in the Vatican, where he met Pope Benedict XVI and Pope Francis. There are dozens of university professors and important art critics who have written about Benetti's art and have participated in the projects that the Italian painter has created.
Awards
2020 • Nettuno d'Oro
2014 • Premio Internazionale Excellence
2010 • Premio F. P. Michetti
2009 • 53. Biennale di Venezia
Shows
2017 - November • Volti contro la violenza, Palazzo D'Accursio, Bologna, Italy
2017 - April • Pater Luminum, Museo Civico di Gallipoli, Gallipoli, Italy
2017 - January • inMovimento, Ex Ospedale dei Bastardini, Bologna, Italy
2016 - August • Omaggio alla pittura Rupestre, Museo del Castello di San Giorgio, La Spezia, Italy
2016 - January • Signum Crucis, Ex Ospedale dei Bastardini, Bologna, Italy
Products offered by Andrea Benetti