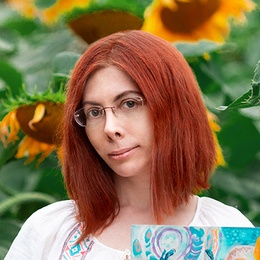 BarbaraFineartStudio
Pravisdomini, Italy
7 products in catalog
About
"Exploring color as a form of living"
Barbara was born in 1982 in Minsk. Now she is a political refugee artist living in Italy.
She completed a fine art+design degree in 2002-2007 and have painted since she was three years old.
Despite of USSR heritage society and politics suppressing, inequal and abusive foundations existing nowadays in Belarus, the artist creates bright, kind paintings and characters, accumulating the brightest vibes in her soul and sharing it all to the world. The favourite theme - owls & animals.
Favourite materials are acrylic paints and pastels. Barbara has many artistic influences, such as Impressionism, Semi-Abstract, Ethno art.
Whatever the subject matter, her work is characterized by lots of details and bright colours, different patterns and textures. The main inspiration - vibrating colors of nature. Bright mixing energy of wildlife colors, birds, animals and light are the source to create and interpretate the social life.
Usually Barbara works in an impressionistic style with many layers of paint, expressive colorful strokes and dots. It takes a lot of time to create the paintings due to many details involved.
She is a real creator always seeking new forms of art and techniques to express her inner self.
Awards
2014 • "The Best Debute" prize on art & sculpture exhibition of National Center of Modern Arts
2011 • Winner of XX International Festival of Art & Photo "Mill of Fashion"
Shows
2020 • Personal Art Exhibition "Fairytale Time", Trinity Hill, Museum of Uladzislau Halubok, Minsk, Belarus
2020 • Everyear Art Exhibition "Monet, Shishkin, Malevich", National Center of Modern Art, Minsk, Belarus
2015 • International Art Exhibition "Panna Doll'a", Art Palace, Minsk, Belarus
2014 • Art & Sculpture exhibition of National Center of Modern Arts, National Center of Modern Arts, Minsk, Belarus
2014 • International Art Exhibition "Panna Doll'a", Art Palace, Minsk, Belarus
Products offered by BarbaraFineartStudio