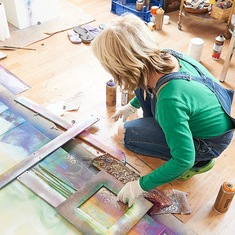 Bea Garding Schubert
Balge Sebbenhausen, Germany
47 products in catalog
About
Bea Garding Schubert is a German artist who creates abstract works that inspire hope and happiness. The more you look at Bea's works, the more you'll see. Windows, plants and words emerge out of the abstracted image - a surreal world of tranquillity beneath the surface.
The artist studied at Braunschweig University of Art in Germany ( painting class Prof. Hermann Albert ). Then she travelled the world for over 8 years, eventually settling down in Mallorca.
Bea has exhibited her work around the globe, from New York to Beijing. The German embassy in Athens and the Chagall Museum in Vitebsk/Belarus hold a number of her paintings.
Awards
2018 • selected artist for International Chagall Pleinair in Vitebsk/Belarus
Products offered by Bea Garding Schubert