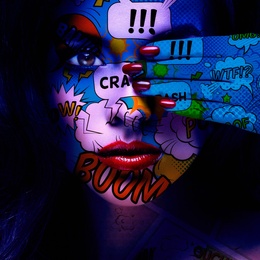 Brede
Gjerdrum, Norway
About
ArtLimes Shop closed - Visit my official art site (
erikbrede.com
) for signed, limited edition Pop-and Erotic Art.
All my artwork is produced by WhiteWall in Germany, rated as the #1 Photolab in the world, checked by hand, given a protective cover, and placed in art-secure packaging before delivering to the art shipping professionals at UPS, FedEx, TNT, or DHL straight from the photo lab. The estimated delivery time is 10-15 working days, and I will email you the tracking number as soon as the shipment is ready.
BIO
I'm a critically acclaimed photographer and digital artist with more than 30 years of experience transforming ordinary spaces into one-of-a-kind experiences. My work has been exhibited and published in France, Italy, the UK, the United States, and Norway.
I was born in 1971 in Svolvaer, Lofoten Islands, Norway, where my photography journey started at the age of 11 after my father introduced me to the great magic of film development and post-production in his low-budget darkroom. Even if the old analogue Darkroom is replaced by Photoshop and Lightroom, my vision and creative ideas are still the same.
SHIPPING
Erik Brede Photography ships directly to more than 50 countries around the world. My printing lab (White Wall) handles the shipping, and I do not influence which countries they ship to. I only ship to the following countries:
Argentina, Australia, Austria, Bahrain, Belgium, Brazil, Canada, China, Croatia, Czechia, Denmark, Estonia, Finland, France, Germany, Greece, Guernsey, Hong Kong, Hungary, Iceland, India, Ireland, Italy, Japan, Jersey, Kuwait, Latvia, Liechtenstein, Lithuania, Luxembourg, Malta, Mexico, Monaco, Netherlands, New Zealand, Norway, Poland, Portugal, Republic of Korea, Saudi Arabia, Singapore, Slovakia, Slovenia, South Africa, Spain, Sweden, Switzerland, United States, United Kingdom, United Arab Emirates
You find more of my artwork at my official art site
www.erikbrede.com
For NFT Updates - Follow me on Twitter
Awards
2015 • Finalist Certificate - 35th Annual Spring Photography Contest - Best of Photography 2015
2014 • Certificate of Excellence
2014 • Certificate of Excellence
2013 • 2nd Place - Digital Art - Solo's 25th Juried Invitational Exhibition of Visual Arts
2013 • SoJie 25 - Special Recognition Award
Shows
2020 • The Archive Amsterdam 2020, The Archive Amsterdam 2020, Amsterdam, Netherlands
2018 • Artexpo Summer Rome 2018, Artexpo Summer Rome 2018, Rome, Italy
2017 • Group Exhibition in Leitrim, Ireland, Group Exhibition in Leitrim, Ireland, Leitrim, Ireland
2016 • In Search of a Lost Memory, Mostra Fotografica Collettiva Internazionale Itinerante, Tarento, Italy
2016 • Lectoure Exhibition 2016, Lectoure Exhibition 2016, Lectoure, France
Products offered by Brede