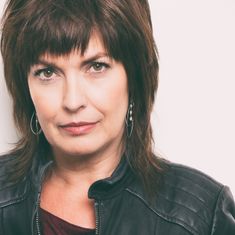 Christel Van Hemelrijck
Mechelen, Belgium
About
Christel Van Hemelrijck is a self-taught artist based in Mechelen, Belgium. She lived in Crete beginning of the nineties and still spends a lot of time there. The island is a major source of inspiration.
Her work, a vibrant collection of abstract oil paintings, stands out by the use of texture, colour and light. Those textures can be observed in her earlier series, mostly energetic and chaotic. The use of a palette knife is omnipresent.
The right kind of punk attitude brings us back to her younger self with a clin d'oeil to the music scene of the late seventies and early eighties. She replaces black by the energetic use of plain colour, mostly red and blue as observed in her more recent series Selino. No representation of classic sceneries but an outburst of raw emotions. Overwhelming monochromatic planes, intrusive and captivating.
Shows
2020 - August • SwissArtExpo, SBB Event Hall, Zurich, Switzerland
2020 - April • Venice International Art Fair, Palazzo Ca Zanardi, Venice, Italy
2020 - February • THE BODY LANGUAGE, THE ROOM, Venice, Italy
2020 - February • ARTIST 2020 Contemporary Art Fair, Espacio Villanueva, Madrid, Spain
2020 - January • ALCHEMIC BODY | FIRE . AIR . WATER . EARTH, THE LINE, London, United Kingdom
Products offered by Christel Van Hemelrijck