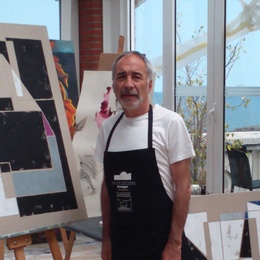 Luis medina
Santander, Spain
About
Born and based in Santander, Spain. I have had more than 30 individual exhibitions, and my works have been finalists or selected in numerous national competitions. Currently my works are in public and private collections in Spain, EU, USA and UK
I express myself through color, creating a minimalist perspective. I use acrylics on canvas or paper. I am looking for a balance in the composition; Sometimes they are geometric and others are closer to abstraction.
It is the expression of color through minimalist compositions. I try to do "more with less", and as always in my work it is an expression of feelings and sensations.
I believe in a continuous evolution of the work, which is naturally caused by the fact that I get carried away by my own discoveries and feelings when I create it. Influenced by my studies in industrial engineering, my works in some of his series have a geometric pattern.
Awards
2022 • Finalist San Jordi Fine Arts Award Foundation Perelló Spain
2022 • Third award in the Yot Art Prize art in spanish
2021 • Finalist II National Painting Prize Club Rotary Barcelona Spain
Shows
2021 • ART MONTPELLIER Art Fair, ART MONTPELLIER, MONTPELLIER, France
2021 • ART MADRID Art Fair, ART MADRID, Madrid, Spain
2021 • FLECHARTE Contemporary Art Fair, FLECHARTE, Madrid, Spain
2021 • Return of form and color, Gran Casino Sardinero, Santander, Spain
Products offered by Luis medina