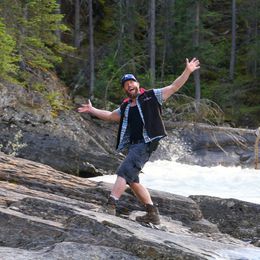 Maple Leith
Fernie, Canada
37 products in catalog
About
I'm an artist, an athlete, an outdoorsman, an animal lover, a loyalist, a Canadian.
I've been called a knuckle-dragging Neanderthal by multiple woman. I'm a gentleman.
I have a degree in Fine Arts from The University of Western Ontario.
I'm from Kingston, Ontario, Canada.
I have lived in four of Canada's 10 provinces. I currently live in Fernie, British Columbia.
Home is U.W.O.. Home is Toronto. Home is Shambhala. Home is Alberta. Home is British Columbia. Home is Canada.
I'm genuine.
I admire Diego Velazquez, Andy Warhol and the Great Vincent van Gogh. I respect Velazquez. I love and hate Andy. I have a kinship with Vincent. I look up to Rembrandt, Michael Snow, Yves Klein, Franz Kline, Claude Monet, Mark Rothko, Lawren Harris, Tom Thomson, Emily Carr, Laurie Anderson, the Group of 7, Ai Wei Wei and Banksy.
All of the animals and landscapes depicted in my work I have seen and photographed myself.
My personality is colourful. I love the colours of nature and how they enhance the quality of life. I make art in respect to what I have deep passion for. I create paintings and 3-D mixed media artworks of Canadian animals in addition to landscapes, as well as the abstract exploration of colour. I make art about Canada and the beauty of colour.
Leith, B.F.A.
Products offered by Maple Leith