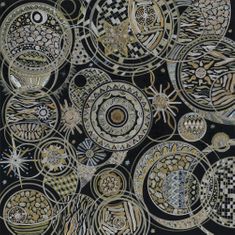 Nastia Art
Brussels, Belgium
69 products in catalog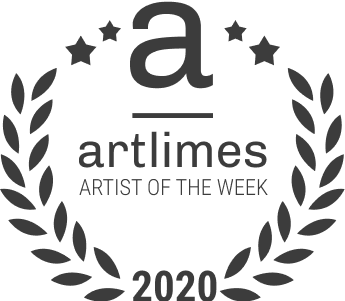 Our
Expert's
Perspective
The palace of conception is burning, happy animals in blissful lands recreate Earth with harmony and peace, forest flowers so twined and tightly bound replace life netting, stretched out grass and draped trees are the only path to the garden of magic; as human consciousness subsides beyond the normal or physical level, transcendental travellers in blue, green and pink enter the universe looking for something or someone new.
A versatility of different styles is what makes the contemporary art of Anastasija Ozueh unique. Experimentation is part of her life, she loves to bring together different forms of expression and she incorporates even her music lyrics into her paintings. She makes mostly abstract art using mixed media, but she also works quite often on graphical pieces where precision on detail is required. All her artworks tell a real story about happiness, pain or sorrow. All very blunt and sincere.
This artist is the honest connection to a better and most spiritual world, that goes beyond the limitations of time and space, beyond personality traits and egotistical boundaries. Her art is an enormous blast of expansion to parallel realities, an aesthetic involvement to a land more promising and inclusive than this one. Every painting works as a liberation or a removal of human rulership and authority, more like a sudden jump to reach God and be infinitely content to a never-ending cosmos.
Curated by Kelly Kaimaki, Creative Writer / Curator
About
A Lithuanian artist who chose Belgium as a new home. When she was a kid, at school she constantly took part in different international drawing contests and she won many of them, over 15 different diplomas. Unfortunately, all of it got lost after she moved abroad. But the most precious award was a National one, the competition was ''Exile to Siberia'' - there were 10 winners across the country that got an award directly from the president - Valdas Adamkus and she was one of them!
Got a bachelor degree in graphic design & fine arts. But her main passion is music - she is a professional singer and a songwriter. She incorporates her music and even lyrics into the art! And as a graphic designer, she loves to use many graphical details in her paintings. A fine art part from college was requiring a lot of external painting such as landscapes, still life, human body and parts, exterior, interior etc... All of that gave a lot of inspiration for the future and a wish to let go of that precision.
A huge variety of different styles and versatility shines from each and every work she makes. Enjoys creating series of painting. And though she makes mostly abstract art using mixed media, she also works quite often on graphical paintings. The experiment is a part of her life! She fights for all animal rights domestic as well as wild animals - she is not a humans person but an animals person. Her music, as well as her paintings, tell her real-life stories, pain, happiness, very blunt and honest, experiences a never-ending huge range of emotions and feelings also it tells as well about spiritual growth as that is super important to her! Art that she makes is calling people to wake up and see things outside of the box, stop spinning a wheel - stop, listen, see and feel what is really going on around us...
Merch with my art on it on Redbubble
https://www.redbubble.com/people/nastiaart
Videos of some of my artworks
https://www.tiktok.com/@nastia_artwork
Products offered by Nastia Art