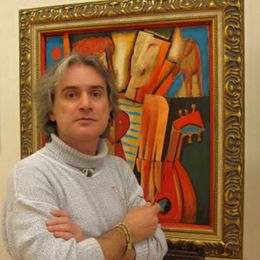 Rumen Sazdov Art
Prague, Czechia
156 products in catalog
About
The artist lives and works since 1989 in Prague.
Artworks of this charismatic artist are part of private collections in 29 states, 4 continents.
Owners of his paintings are for example the Bulgarian prince Kiril Tarnovski, the Spanish marquise Gloria Ferrera des Monsolis, countess Kristine d´ Barout, Princess Stephanie of Monaco, madame Chirac, Mr Schenker - guitarist of the band Scorpions, Hollywood star Bruce Willis and many other Czech and International VIPs.
1959 Born in Kyustendil, Bulgaria
1980-84 Secondary school of art in Sophia, Bulgaria
1978 St. Cyril And St. Methodius University Of Veliko Turnovo, Bulgaria, faculty of Figurative Arts
1989 Winner of tender for Middle-Class Art Schools Curriculum in Bulgaria (by Ministery of Education)
1994-95 Paris – Exhibitions, Auction sale via Drouot-Richelieu-sold 39 paintings, and
Represented by Commissaires-Priseurs, CLAUDE ROBERT & JOEL M. MILLON
1995 Registred in Auction Catalogue MAYER and in World Art Index –
artnet.com
1995 Member International Organization of Author´s Rights Defense A.D.A.G.P., Paris.
2000-05 Advertisement agency, Operation/Art manager, own Gallery
2005-12 Prague/NYC/Italy – Exhibitions, Realisations, Projects
2013-14 Project "Fragile Beings" /metal art sculptures from leftovers
2015-16 Design concept of Glass bottles, packaging and presentation for
Essential oils and body products for an American client
2017-19 Participation in "Flowers" event - porcelain painting and several group exhibitions
for 100 years anniversary of the Czech Republic
2019-20 Enamel and Wood – a multi-material eco-art project
Awards
1989 • WINNER of Tender for Middle Class Art Schools Curriculum in Bulgaria (by Ministery of Education)
Shows
2021 - February • Annual Group Exhibition, Gallery at Golden Rooster, Prague, Czechia
Products offered by Rumen Sazdov Art