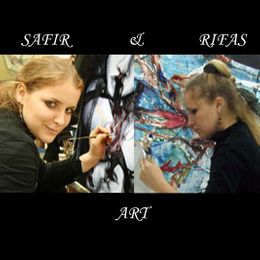 Safir and Rifas Art
Deva, Romania
About
SAFIR & RIFAS
Safir and Rifas
Over the years of study in faculty, master, and PhD studies, we gained the experience and values necessary for any artist, also we consider that the diversity in ideas and concepts is an essential addition to the development and introduction of 'innovation' in the Art World:'the image create the most magnificent cocktail of effect and sensation'.
What we mean is that we are, professionally trained and educated in both traditional and digital art, but always there are new things to learn, just to be given the chance to do so.
The new values that we would bring through our creation in Art are that diversity and originality would be present in our ideas and artworks that would become not only feasible but also of massive impact.
Our creations include traditional painting, figurative or abstract, original concepts, photography, photo - manipulation, and digital art.
Mixed technique paintings are made by joining or patching pictorial surfaces with different combinations of materials and textures of cloth, cardboard, plywood, crystals, and pulp color, well-integrated in the coherence of compositional structure.
On the one hand, we give free will to the flow of evolution and informal gestures, stimulating disintegrative forces. On the other hand, clarifying forms of human traits, these wandering spirits are pushed to the limit of a symbolic dialogue with the audience.
Substrate raises topics of psychological, philosophical, mystical, mythological, fantastic, romantic, literary, mathematical, and symbolic vision prior to painting, through metamorphosis and anamorphosis of the figurative to the abstract images, from real to imaginary.
'Diversity and originality are two concepts that characterize me.
When someone chooses to go on a single road, his vision is blurred and he will not notice anything around him, this happens in art also, so I chose not to follow only one 'art direction, instead I diversified my artistic approach.
One thing that can be recognized in my work is the personal touch of my style, this does not change, it's a personal and artistic DNA.
Beyond the looking glass, you will see the real me. '(SAFIR)
'Matter and the deformed concept of the relief form are the two approaches that define my art. What I want to output through my work is that whatever has a shape, color, and relief and is tangible as the matter is ephemeral. Materiality does not last, and yet, we are trying to capture its time and duration through painting. Everything starts from a point and then materializes in a form of reality.
Reality defines us but we are not characterized by it, what makes us unique is our imagination and creative ability, that's why my artistic theme has varied artistic approaches, and the link between real and imaginary is the raw material and the relief applied on the evenness of the canvas.
Creation is a delirium of the imaginary matter: Flemish reality combined with the physical substance of imaginary fantastic ideas. '(RIFAS)
SAFIR
Education
Master / Postuniversitary degree
Workshop at the Academy of Fine Arts with the artist Hans Schnell, Munich,
Germany, (2010 - 2011)
Master / Postuniversitary degree
Western University, Faculty of Art and Design (2009 - 2011), Timisoara
2011 - MFA Dissertation Thesis on image sources and resources 'Demonic Rebellion of Creation'
University (graduate)
ERASMUS Scholarship at Academia di Belle Arti, San Martino Delle Scale, Palermo,
Italy (2008 - 2009), Abroad
University (graduate)
University of Art and Design (2006 - 2009), Cluj Napoca
2009 - Thesis in Painting: 'The Fall of Adam'
High School / Vocational School
High School of Music and Fine Arts 'Sigismund Toduta' (2002 - 2006), Deva
2006- Group exhibition of Fine Arts and Music High School 'Sigismund Toduta' Graduates with graphic illustrations for the book: 'Adam and Eve' by Liviu Rebreanu
RIFAS
Education:
Doctorship
2013-2016 - Western University, Faculty of Art and Design, Timisoara
2011 - Ph.D. Dissertation Thesis - 'Expressions of the Abyss in Visual Arts'
Master / Postuniversitary degree
Workshop at the Academy of Fine Arts with the artist Hans Schnell, Munich, Germany(2010 - 2011)
Master / Postuniversitary degree
Western University, Faculty of Art and Design (2009 - 2011), Timisoara
2011 - MFA Dissertation Thesis on image sources and resources 'Fall into Matter'
University (graduate)
University of Art and Design (2002 - 2006), Cluj Napoca
2006 - Thesis in Painting: 'The loss of Lucifer'
High School / Vocational School
High School of Music and Fine Arts 'Sigismund Toduta' (1998 - 2002), Deva
Products offered by Safir and Rifas Art