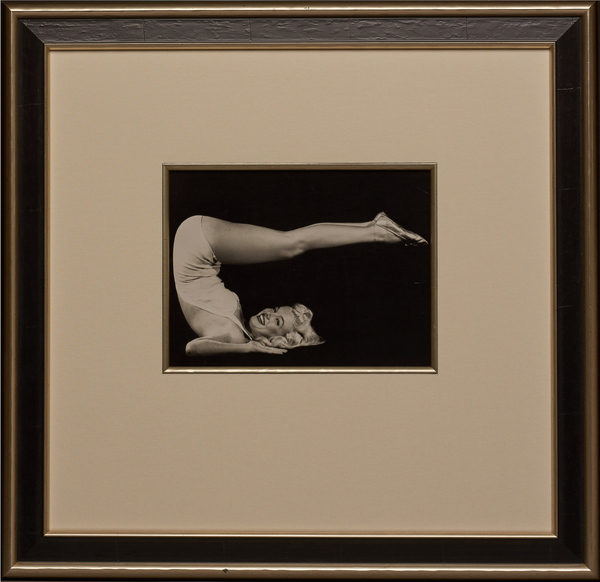 Marilyn Monroe - Halasana
, 1948
Ed Cronenweth
Gelatin silver print on Baryta paper
Original Photography, 54.61 x 43.34 cm
15% OFF
with code OTMNWHISPRS.
Ships from United Kingdom for

£35.00

Offered by
Kudos Memorabilia Ltd
United Kingdom
About the Product
A beautiful Gelatin Silver Print on Baryta Paper featuring Marilyn Monroe in a yoga pose (Plow Pose, Halasana). The photograph was originally taken in 1948 by photographer, Ed Cronenweth, for Columbia Pictures and was printed later for the Time Magazine Portfolio.
Marilyn was an early adopter of Yoga, as the first Yoga studio in Los Angeles only opened in the late Forties. Marilyn first publicly alluded to her practise of Yoga in 1956, according to The Subtle Body, a history of yoga culture in the USA. Marilyn learned yoga from Indra Devi, who many consider to be the "The First Lady of Yoga". Photos of Marilyn performing Yoga poses were commissioned by both Columbia and Fox Studios.The Cronenweth photoshoot in 1948 was, however, the first to capture Marilyn performing Yoga poses.There are only 21 known images of Marilyn practising Yoga, and all are highly favoured by collectors.
This image was taken to promote the 1948 movie, 'Ladies of the Chorus'. The original set was published in various newspapers promoting the movie and included the caption: "Look pretty, feel good. Marilyn Monroe, who plays the ingenue lead in Columbia's Ladies of the Chorus, exercises her way to beauty and health."
This historic photo was also part of the George Zeno Collection, co-author of the books, 'Marilyn in Fashion: The Enduring Influence of Marilyn Monroe' and 'Monroe', a insightful biography of the iconic star's fascinating life.
On the reverse appears the handwritten complemented copyright stamp of Time Magazine, an additional Time Magazine stamp, the stamp of photo agency Grazia Neri, Milano, and the stamp 'CIANO GIA FATTA. Photo credit: 'George Zeno Collection'
About Ed Cronenweth
Cronenweth was hired, at the tender age of 17, by Universal Pictures as an assistant cameraman and worked on many films for the studio between 1920-1925, including THE HUNCHBACK OF NOTRE DAME (1923). In 1926 Cronenweth accepted a job as a still photographer at Warner Brothers and quickly found work in the same capacity with Paramount and Universal. By 1928, Cronenweth was working exclusively for Metro-Goldwyn-Mayer, and he soon became celebrated for his star portraits. In addition to Marilyn Monroe, Cronenweth also photographed Judy Garland, Mickey Rooney, Clark Gable, Rita Hayworth, Jane Fonda and Marlon Brando, to name but a few.
Return Policy
You may return your item(s) within 30 days of purchase providing you have contacted us at [email protected] for a Returns Authorisation Number.
Return Policy Terms
Please note we will only refund an item if it has been returned in its original condition together with all accompanying paperwork, including any applicable 'Certificates of Authenticity' or other additional paperwork supporting provenance, which was sent with the original order.