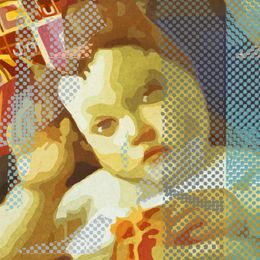 Devnenski
Munich, Germany
52 products in catalog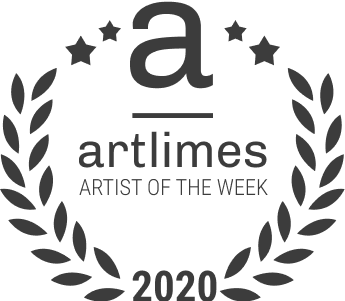 Our
Expert's
Perspective
She left a note on the bedroom door and she vanished in the storm, whilst the Union Jack children were playing by the shore. High buttoned shoes, flashy for the new arrangement with creatures from outer space where the lights are now on. Sand walkers totally naked as she was, pretend that the time of guns and beauty has already gone. Love's triumphant modern plastic doll has no mercy for us all, and the scents of smoke and pollen lead secretly to a colliding world. Midnight is simply a criminal act of entrapment after all.
The contemporary art of Nikolay Devnenski is a harmonious co-existence between the modern society and any other from mankind's past. His story-like subjects explore the possibility of a simultaneous symbiosis in different cultural universes, always in a perpetual search of happiness and self-satisfaction. He uses an electric mixture of photography and graphic elements, edited to produce a painterly appearance. His work is predominantly collage-based with a leaning towards pop-art. In fact, his portraits tend to tell a very vivid story of cultural evolution.
This artist can be greeted as a digital time-traveler, making this present world seem very uninteresting without his aesthetic intervention. From this point in time to the renaissance/middle century and from this continent to another, a man is faced with multiple challenges, choices and riddles; and perhaps he finds equilibrium to this double universe that is so gracefully created. A mixture of modern and classic imagery, with a glimpse of vintage and retro, leaves no soul unsatisfied. In his arena, an ordinary man smokes diamonds and gains angel wings to quiver and thrive.
Curated by Kelly Kaimaki, Creative Writer / Curator
About
Nikolay Devenski has been studied painting and sculpture at the National School of Art in Sofia, Bulgaria for five years to get his first art education. Being always quite interested in experimenting with new techniques and discover new means of expression he studied after that Art Textiles and Fashion at the National Academy of Art in Sofia, where he graduated in 1994 with a Master of Arts degree.
20 years ago Devnenski moved to Barcelona, Spain, discovering another passion. There he made his career as a web and graphic designer, despite being self-educated in this field, working also 2D animation and 3D product design among others.
After his work as a web designer for a multinational company for 5 years in Munich, Germany, Nikolay Devnenski dedicated the last three years to digital collage and photo manipulation exclusively, becoming a digital artist with fast-growing popularity.
In 2019 David Asch wrote:
"Nikolay's artwork is collage-based with a leaning towards pop art; he uses an eclectic mixture of photography and graphic elements, edited to produce a painterly appearance. His story-like subjects explore the possible symbiosis of two different cultural universes; the modern one and the renaissance/middle century art in a perpetual search for harmony. Man, faced with multiple solicitations from modernity, finds equilibrium in this double universe. Nikolay Devnenski believes the time is not linear, and the future can influence the past and vice versa. Therefore there is no contradiction in the symbiosis between modern society and any other from mankind's past. Devnenski's digital art and drawings are full of vitality through a combination of grace, movement and force."
Shows
2022 • Digital Art Exhibition "Pieces of Mirror Reality", Sofia Press Gallery, Sofia, Bulgaria
2020 - October • National Fine Art Exhibition - Sliven, May Gallery, Sliven, Bulgaria
2020 - October • National Exhibition "Veliko Tarnovo - Space for Inspiration '2020", Rafael Mikhailov Gallery, Veliko Tarnovo, Bulgaria
2020 - March • Nikolay Devnenski - Solo exhibition, NH Collection Eurobuilding, Madrid, Spain
2020 - January • Nikolay Devnenski - Solo exhibition, Finca de los Arandinos, Logroño, Spain
Products offered by Devnenski