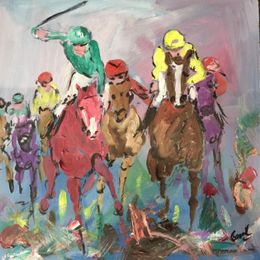 Garth Bayley Art
Stokesley, United Kingdom
76 products in catalog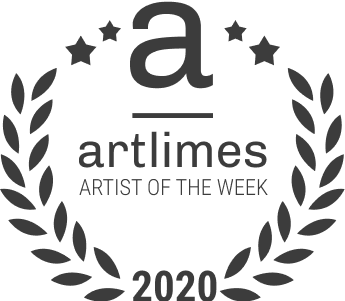 Our
Expert's
Perspective
Summer rowers, acrobatic performers, cyclists, speed skaters, athletes in moments of concentration, motivation and competition. No game is a losing game when it comes to the true spirit of participation in a particular sport, without the reward of fame or glory. A range of subjects from horse riding to landscapes, from the hottest day of the year to the dance of Woodland Nymphs, from the static sheep gazing away to the energetic Tour de France, all vivid depictions of an eternal quest to freeze time.
The contemporary art of Garth Bayley is all about capturing a moment and through it to narrate a whole story. He uses oils, pen and ink, watercolour and pastels and pays great attention to colour and movement. He is predominantly known for his sport paintings, mainly cycling, however diversity is his strength. His inspiration derives from people and places, how they both adapt to their environments.
This artist holds the unique charisma to challenge time and directly connect his paintings to their natural surroundings. He gracefully identifies the "right moment" from where it all begins and he invites you to join the ride. Every fast lane gets you high on adrenaline and gives you a life breather, a sense of breaking free, escaping, going somewhere better. He ultimately creates memories of locations, actions, faces and emotions. It's up to you, when you choose to connect, thrive, endure and figure out the true meaning of your life.
Curated by Kelly Kaimaki, Creative Writer / Curator
About
Garth's work is all about capturing a moment in time. This often means his work is sport or dance related. It is the sense of movement and colour that are more important than the subject itself. Garth has a great reputation for his cycling paintings which are in collections from the UK to the USA and Australia. He draws inspiration from current events like the Tour of Britain and Tour de France.
Shows
2023 • Art and horse, Newmarket races, Newmarket, United Kingdom
2023 • North Yorkshire Open Studios, Home studios, Stokesley, United Kingdom
2023 • Garth Bayley solo, Heritage gallery, Middlesbrough, United Kingdom
2023 • A Wild Ride - solo, The Heritage Gallery, Middlesborough, United Kingdom
2023 • Art for Youth - group show, St Mary's school, Thirsk, United Kingdom
Products offered by Garth Bayley Art