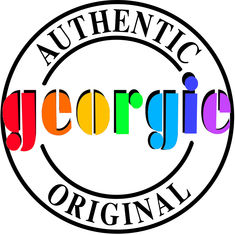 georgie
Bristol, United Kingdom
20 products in catalog
About
Georgie is an artist and maker with an interesting eye, interesting self and something to say about life. Known for her bold, political and colourful prints and beautiful large scale murals, she is out making art in the world. There, her love of creating is combined with a joy for performing that shines through everything she touches.
With representation at the Westbank in London, It's All 2 Much Gallery and Upfest Galleries in Bristol, her work is a force to be reckoned with. On top of that, she creates murals in front of audiences of tens of thousands at the last 5 Upfest Street Art Festivals from 2015-2020. She's also had commissions for murals at Shangri-La in Glastonbury Festival and Boomtown Art Fair.
She sells regularly to collectors around the globe who see her star rising.
Making is her sanctuary, the place she can go to be distracted in the act of creation from the constant pain of having HMS (hypermobility syndrome). In her basement, it is just her, the prints and the passion. Screen prints are her most recent expression of choice and she is known for works of satire and humour. She is keen to share these observations on life, love and politics.
Self taught as an artist with a degree in music production from University of Brighton, Georgie is self motivated. After a successful career in Sound where she worked with major players like MTV, Sky TV, BBC and countless celebrities, she couldn't resist the pull back to art. In 2013, she put down the mics and picked up the spray cans.
Hosting and organising Paint Jams from 2014-2017 in the famous Bear Pit in Bristol, home of some of the great Graffiti artists of our time, kept her inspired and exploratory.
Born in Edinburgh, Bristol is home. From this base, Georgie continues to spread her wings throughout the art world with positivity and beauty.
Products offered by georgie