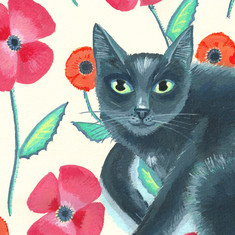 Mary Stubberfield
Eastbourne, United Kingdom
About
I am an Eastbourne based best selling artist with hundreds of happy customers in the UK and worldwide.
I have shown and sold my work for 30 years in art galleries, cafes and online. I have also exhibited in Greece and was commissioned to paint houses and murals for private clients there.
I have illustrated magazines, book covers, children's books, cookery books, greetings cards and advertisements. My work is published by Museums and Galleries, the Art Group, Design House and Pomegranate in the USA.
New artwork can be found on wall art, greetings cards and jigsaw puzzles.
Awards
2021 • Finalist in the British Art Prize 2021
Shows
2019 - September • Society of Feline Artists, Royal Opera House Galleries, London, United Kingdom
2019 - May • Mixed show, Devonshire Collective, Eastbourne, United Kingdom
Products offered by Mary Stubberfield