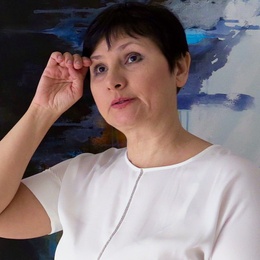 Svetlana Rezvaya
Oslo, Norway
21 products in catalog
About
I was born a researcher who investigates human emotions in a metaphysical and abstract way. I am Svetlana Rezvaya, an artist based in Oslo, Norway. Through my art I express that which does not concern the ecology of the earth, but rather with the ecology of a person. My emotionally expressive compositions are created with the acrylic technique in an abstract expressionist style.
I create themes for my creativity via concepts. In the concept "Kaleidoscope of emotions" I present abstract paintings. The concept presentation shows as in an optical instrument, the kaleidoscope, one can observe a series of rapidly changing color patterns on canvases. The colors and compositions change, it depends on my emotions in the painting process.
In the process of creating works of art, elements can come spontaneously and if it is beautiful, I keep it. And then the painting develops along its own path. Sometimes the paintings can come to me in my dreams. Then it is important in the morning when I wake up to make a sketch. Artistic images visit me when I am in a state between reality and sleep, when I am not yet fully awake but no longer asleep. In paintings I strive to convey feelings of peace, joy and sometimes sadness or movement, hope and renewal.
I started my career as an artist when I finished my bachelor's degree in visual arts in 2000. For 23 years I have painted paintings. I exhibit paintings every year both separately and in groups and actively in Oslo. Svetlana's paintings are in private collections in Norway, Finland, Austria, Russia and Germany.
Shows
2023 • Solo exhibition Picture of the month "A trip", Deichman Torshov, Oslo, Norway
2022 • Group exhibition Småbilder market, Sagene Samfunnshus, Oslo, Norway
2022 • Group exhibition Lions Club, Lilleaker, Oslo, Norway
2021 • Member exhibition Torshov Art and Culture Association., Gallery Sagene Samfunnshus, Oslo, Norway
2021 • Solo exhibition "Metaphors of reality", Gallery Albin Art, Oslo, Norway
Products offered by Svetlana Rezvaya