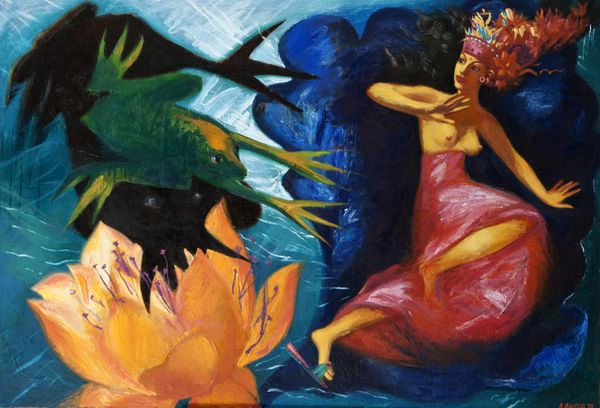 Thumbelina, Central Part of the Triptych
, 2012
Anastasia Russa
Oil on canvas
Original Painting, 150 x 104 x 3 cm
Free Shipping

from United Kingdom
15% OFF
with code 15OFF4U.

Offered by
Anastasia Russa Gallery
United Kingdom
Return Policy
Two weeks
Return Policy Terms
Two weeks
About Anastasia Russa
Born in 1980 in Moscow, Russia.
She lives and works in both the UK and Russia.
​
Education:
1999 – 2001 I.Repin Saint Petersburg State Academy Institute of Painting, Sculpture and Architecture
2001 – 2005 Department of Monumental Painting of the V.Surikov Moscow State Academy Art Institute
2013 – 2015 University of the Arts London, MFA in Fine Arts course in Wimbledon College of Art
Awards:
2014 Best Student Prize, EWAAC, London
2008 Laureate of the XVIII Moscow International Art Contest "Golden Brush"
2005 Laureate of the Youth Premium "TRIUMPH", Moscow
Solo shows:
2016 Solo exhibition "Burning the Midnight Oil" ( 19th November - 6th January, St.Catherine's Church, Dollis Hill Lane, NW10 1QB, London)
2016 Solo exhibition "Per-Version of the Myth" (Gridchinhall, 9 - 28th of July, Moscow Region)
2016 Solo exhibition "Could a critique of contemporary consumerism also function as today's History Painting?" (Gallery Belyaevo, 6 - 12th of April, Profsousnaya str., 100, Moscow)
2015 Solo exhibition (2nd - 9th of May, Nude Tin Can gallery, 125 Hatfield Rd, St Albans, Hertfordshire, AL1 4JS)
Group exhibitions:
2017 "As it stands: Unrefined, muted, abandoned", Open Call (6th - 23th of July, Hundred Years Gallery, 13 Pearson Street, E2 8JD, London)
2016 "Diffusion" (16th - 27th of November, Barge House, Oxo Tower Wharf, Bargehouse street, SE1 9PH, London)
2016 "Alienation" (27th - 30th of October, 5th Base Gallery, 23 Heneage street, E1 5LG, London)
2016 Russa, Wolny & Raspollini Art Exhibition (12 of August - 30 of September, Nude Tin Can gallery, 125 Hatfield Rd, St Albans, Hertfordshire, AL1 4JS)
2016 RBA Rising Stars 2016 ( Gallery LR Lloyds Register, 11th of February - 11th of March, 71 Fenchurch Street, London EC3M 4BS)
2015 "H20: Water Exhibition", (4th March – 3rd May, Art with a Heart, 82-84 George Street, Altrincham, WA14 1RF)
2015 «Spring Salon», (2nd April — 12th April, Candid Art Trust, 3-5 Torrents st, Angel, Islington, EC1V 1NQ)
2015 «Portrait now», regional stage of the competition (Erarta museum, St.Petersburg)
2014 RED X MAS, (4th December – 4th January, Studio 1.1, 57a Redchurch Street, Shoreditich London E2 7DJ)
2014 The ING Discerning Eye Exhibition (13-23 November, Mall Galleries, London, SW1)
2014 The 6th Passion for Freedom London Art Festival 2014 (Embassy Tea Gallery, 195 – 205 Union St, London SE1 0PB)
2014 The Interim site-responsive exhibition by Wimbledon MFA (The Crypt Gallery, Euston Rd, London NW1 2BA)
2014 EWAAC 2014 Finalist's Exhibition (21-25 October, La Galleria, Pall Mall, 30 Royal Opera Arcade, London SW1Y 4UY)
2014 "Cross-view" art exhibition of two artists – Anastasia Russa and Maria Smol'yaninova (Gallery Open Club, Moscow)
2014 Art Exhibition "Home Is Where Art Is" (Seven artists from Wimbledon MFA at Chelsea SU exhibition space – Chelsea College of Art)
2014 Art Exhibition "Inspired by" national art competition launched by the V&A and entrusted to Morley Gallery for 2014 ( 20 May-19 June , Morley Gallery, 61 Westminster Bridge Road, London, SE1 7HT)
2014 Art Exhibition "Mein Fukushima", 30 April – 11 May (Die Färberei, Claude-Lorrain-Str. 25, 81543, München), Munich
2014 Art Exhibition "Encounters" – Friday 21st February 2014 – Thursday 20th March 2014 (BAR Gallery, BAR Lab, 4-5 Queens Parade, Walm Lane, London NW2 5HT)
2013 Art Exhibition "Space for living, space for creation" (The House of Artist on Kuznetskiy most, 11, Moscow)
2013 International Video Art Festival «Now&After»
2012 Performance "Try to fly" (Gallery Open Club, Moscow)
2012 "Process" art exhibition of two artists – Anastasia Russa and Alexander Mironov (Gallery Open Club, Moscow)
2011 Art Exhibition "Balloon d'essai" (Museum and Exhibition Centre "Rabochiy i Kolkhoznitsa")
​
Lectures/Artist talks:
2016 Artist's slide talk (21st of September, Gallery Open Club, Moscow)
2016 Artist's slide talk, Art Festival "Art in Interior (20th of June, BoConcept, Ukrainsky boulevard, 6, Moscow)
2015 - 2016 Serial of lectures on Contemporary Painting (School of Visual Arts, Winzavod, 4th Syromyatnicheskiy lane, 1. bld.6, Moscow)
​
Artist-in-Residence:
2008 Residency Grant at Valparaiso Foundation, Spain, October
​
Publications:
Art Reveal Magazine, Issue #24, January 2017, 65-69 pages, interview and image of painting "Michael and a Dragon" on the Cover Page, ISBN: 9781366447302
Russian Gap Magazine, Issue #9, March 2017, 65-67 pages, image of painting "Michael portrait" is on the Cover page, ISSN: 2058 - 1610
Russian Gap Magazine, Issue #1, March 2015, 20-25 pages, ISSN: 2058 - 1610
​
MORE SELECTIONS

FROM Anastasia Russa Gallery