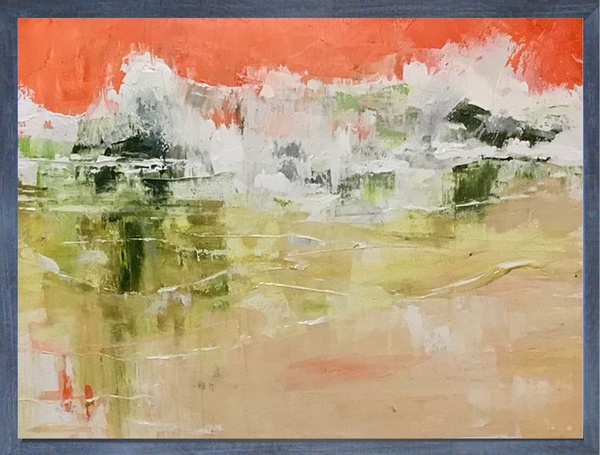 Red Beach
, 2022
Bill McArthur
Oils with some acrylic
Original Painting, 70.4 x 48.4 x 2 cm
Free Shipping

from United Kingdom
15% OFF
with code 15OFF4U.
Offered by
Bill McArthur
United Kingdom
About Bill McArthur
Bill McArthur MA Dip.
Bill McArthur attended Edinburgh College of Art (School of Drawing & Painting) and Edinburgh University (Fine Art Department ), graduating in 1963 . He then moved to London where he worked as a Junior Art Director with J. Walter Thompson Advertising before returning to Edinburgh to develop his own successful screen-printing business in the late Sixties and early Seventies.
In 1977 , he sold the screen-printing business, bought a fishing boat and moved with his wife and family to the island of Sanday in Orkney off the north coast of Scotland and spent twenty years working at sea around Orkney, the Hebrides (as far afield as Rockall) and in the North Sea as far east as the Norwegian Sector.
During this period, the harsh daily working environment made an enduring impression. Wave action and the way in which strong winds de-naturize water, turning it from a liquid substance to flying wind-borne spray, became a constant fascination. Equally fascinating was the way in which tide influences a wave's profile, and the effect of rocks and shallow water on how a wave disburses its energy. However the round-the-clock demands of commercial fishing meant that there was little time for converting daily observations into visual art, though the experiences were deeply etched in the mind.
For 15 years as from 1988 all creative energies were fully engaged in a range of commercial graphic activities : daily political cartoons for The Herald in Glasgow; a weekly cartoon for the national fishing newspaper Fishing News ; regular illustrations for the Financial Times in London - all produced in Sanday and transmitted electronically.
Late in 2009, the opportunity to take up painting seriously again finally presented itself. Since then, work has been successfully exhibited in the Christmas 2010 exhibition at the Pier Arts Centre in Stromness. In 2010 and 2011, a number of paintings have been sold through exhibitions mounted by the Royal Glasgow Institute of Fine Art and by the Crinan Art Gallery in Argyll, as well as directly from the artist's own studio in Sanday.
From 8 October – 8 November 2011 Bill's paintings are on show at The Loft Gallery in St Margaret's Hope, Orkney: his first solo exhibition since abandoning brush for pen and pencil over 50 years ago.
Exhibitions include:
Feb. 2010 Crinan Gallery - Glasgow Institute of Fine Art group exhibition
Nov/Dec 2010 Pier Arts Centre, Stromness - Christmas group exhibition of local artists
Feb/Mar 2011 Crinan Gallery - Glasgow Institute of Fine Art group exhibition
Oct/Nov 2011 Loft Gallery, St Margarets Hope, Orkney - Solo exhibition
Nov/Dec 2011 Pier Arts Centre, Stromness - Christmas group exhibition of local artists
May 2012 Charles Rennie Mackintosh Artist in Residence, Collioure, France.
Crinan Gallery - Glasgow Institute of Fine Art group exhibition
August 15th - 28th 2013 Coburg House Gallery, Edinburgh Solo exhibition
November 2nd - 30th 2013 Orkney Museum, Tankerness House, Kirkwall Solo exhibition
MORE SELECTIONS

FROM Bill McArthur