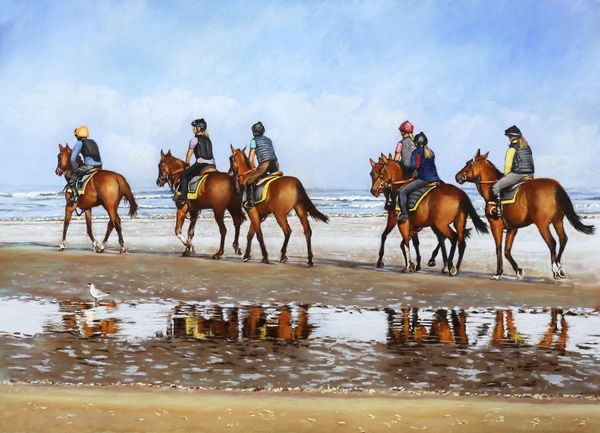 Beach Canter
, 2021
Brian Halton
Pastels
Original Painting, 66.04 x 45.72 x 0.25 cm
15% OFF
with code SUMMERTIME.
Free Shipping

from United Kingdom
Offered by
Brian Halton
United Kingdom
About the Product
This is a 26″ x 18″ study of racehorses having a morning canter on Deauville beach. The work has been done on Fisher 400 art paper. The technique involves layering the paper with thin acrylic paint and then working over the top in pastels and Faber-Castell Polychromo pencils.
The work is sent unframed and will arrive in a heavy duty roll. It is sent unframed because of the difficulty in sending work that has glass in the frame. This means you can choose your own frame and mount, it is less expensive, arrives quickly and safely and delivery is FREE anywhere. All you have to do is take it in the roll to the framer and he will do the rest.
The images here have been photographed in natural daylight with a pro camera and every effort has been made to make sure the tones are correct.
However, there can be slight differences depending on computer screens so if you would like to see further close up images or would like further information please ask and I will reply quickly.
About Brian Halton
Hello Im Brian Halton and for the last 25 years I have lived in the wilds of West Yorkshire where I have a small, modest studio/gallery.
I find inspiration in most subjects – landscapes, cityscapes, seascapes, sport, animals etc but the majority of my work is connected with equestrian and in particular horse racing. Commissioned work is a large part of how I make a living but I also enjoy all aspects of horse racing – the action, jockeys, gallops, stables, head studies, racecourse scenes etc.
I use a variety of materials, oils, acrylics, watercolour and mixed media but work primarily in pastel on sanded board.
Pastels suit the way I work – I can get intricate detail or expressive movement, huge choice of colours, no drying time, no cleaning, will never fade or crack and working on a sanded board they really bite into the surface. They are easy to transport and also photograph brilliantly for future prints.
I undertake commissions. Please contact me for information.