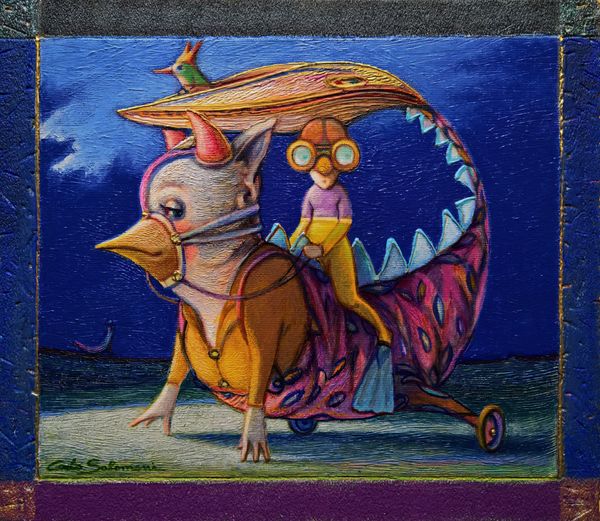 ALWAYS FORWARD
, 2020
Carlo Salomoni
Acrylics on canvas on xps board
Original Painting, 35 x 30 x 2 cm
Ships from Italy for

£52.26
15% OFF
with code 15OFF4U.
✔
Certificate of Authenticity
Return Policy
14 day no risk money back guarantee
Return Policy Terms
The return shipping costs are borne by the buyer. All kinds of customs fees, brokerage fees, duties, taxes, etc. are also the buyer's responsibility for BOTH ways. After receiving the artwork safely, refund for the price of the artwork will be provided.Please note the following is required for a returns request to be accepted: it has to be less than 14 days since you have received the artwork the artwork must be in the same condition as it arrived and in appropriate packaging––ideally in its original packaging please note artworks must be carefully readied for return shipment in their original packaging* in order to qualify for a refund it is important therefore that you take care when unpacking received artworks.
About Carlo Salomoni
I love dreaming in daylight. Giving life to the surrealism that brings a smile to your face that - just like medicine- helps us forget the bad in the world. I produce oil paintings, mixed media and acrylics on canvas, wood, paper, terracotta, as well as china drawings, inks, coloured pencils and graphite on paper. My paintings originate from the metaphysical realm, surrealism, fantasy art, magic realism. My paintings and illustrations evoke a world of dreams and locations in which reality and fantasy melt together.
I love to create cycles of different works to guarantee the originality of each piece.
I was born in Ferrara, Italy, in 1956. I graduated from the medical faculty with a degree in general surgery. However, in 1991 I decided to leave the medical activity and become a professional artist. I'm self-taught in painting. I have exhibited in Italy, France, Belgium, Switzerland, USA. For some years now, I present myself to the public as an independent artist. My paintings are in private collections in Italy, France, Spain, Belgium, Poland, Luxembourg, Germany, UK, the USA, Canada, Australia, and Mexico.
My wife Angela Teresa Lopez, author of short stories, poems, and novels, is often the inspiration behind my creativity.