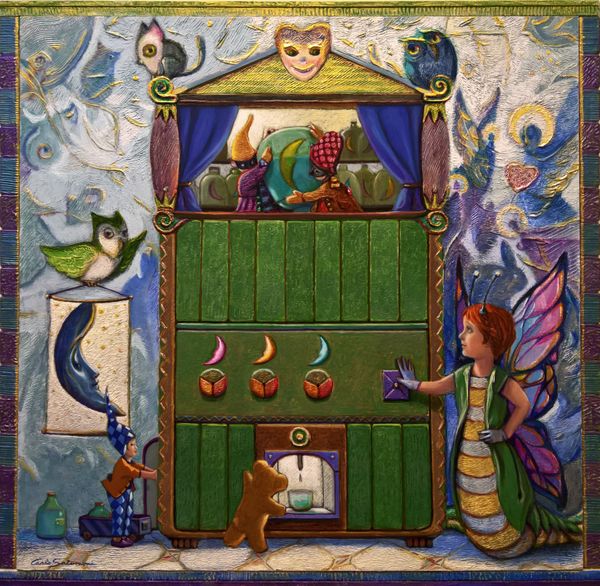 Moon Drops
, 2018
Carlo Salomoni
Acrylics acrylic paste colored pencils glitter on wood
Original Painting, 54 x 53 x 2 cm
15% OFF
with code SUMMERTIME.
Ships from Italy for

£50.62
✔
Certificate of Authenticity


Offered by
Carlo Salomoni
Italy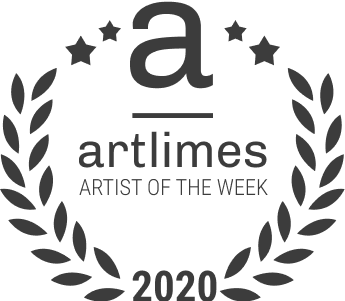 Our
Expert's
Perspective
From a land far far away coloured dreams emerged only to replace cruel and mundane reality, fantastic and mythical creatures set the scene of an eternal escape to other worlds. An open door to the moon leads to a life without borders, where the metaphysical half-bird half-human storyteller awakes your inner soul and opens your eyes to untold universal truths. The deeper you get, everything will be a bit clearer, unmasked and liberating as freedom itself.
In the surreal and figurative art of Carlo Salomoni, daydreaming is a permanent state of being. His paintings and illustrations become the arena where reality dissolves into fantasy and vice versa. He loves to create cycles of different works, using various mediums like oil, mixed media, acrylics on canvas, wood, paper, coloured pencils, inks and terracotta.
This artist is an archetypal wizard of dreamscaping, creating the gravitational field of your hidden desires. Every piece of his art is a mirror reflection of psyche and far beyond, where a different set of dynamic laws are applied. Matter can be easily manipulated by thought, gravity has no solid ground as you know it and time seems somehow irrelevant. This elusive experience can only take you moment-by-moment a step further from your wakeful life, like no other.


Curated by


Kelly Kaimaki, Creative Writer / Curator
About the Product
2018 - Through the eyes of a child, everything becomes magical and extraordinary, even a puppet theater becomes a distributor of moon drops, supply of energy for the creatures of dreams.
Acrylics, Acrylic paste ( details in relief ), Colored pencils, Glitter on MDF.
IMAGE - 50 x 50 x 1 cm depth / 19,7 x 19,7 x 0,4 inches.
FRAMED - 53 x 54 x 2 cm depth / 20,9 x 21,2 x 0,7 inches.
FRAME - One of a kind, handmade, handpainted by me: Acrylics, Gesso, Wood.
Signed on the front. Signed and dated on the back. Certificate of authenticity .
Professional packaging.
About Carlo Salomoni
I love dreaming in daylight. Giving life to the surrealism that brings a smile to your face that - just like medicine- helps us forget the bad in the world. I produce oil paintings, mixed media and acrylics on canvas, wood, paper, terracotta, as well as china drawings, inks, coloured pencils and graphite on paper. My paintings originate from the metaphysical realm, surrealism, fantasy art, magic realism. My paintings and illustrations evoke a world of dreams and locations in which reality and fantasy melt together.
I love to create cycles of different works to guarantee the originality of each piece.
I was born in Ferrara, Italy, in 1956. I graduated from the medical faculty with a degree in general surgery. However, in 1991 I decided to leave the medical activity and become a professional artist. I'm self-taught in painting. I have exhibited in Italy, France, Belgium, Switzerland, USA. For some years now, I present myself to the public as an independent artist. My paintings are in private collections in Italy, France, Spain, Belgium, Poland, Luxembourg, Germany, UK, the USA, Canada, Australia, and Mexico.
My wife Angela Teresa Lopez, author of short stories, poems, and novels, is often the inspiration behind my creativity.
Return Policy
14 day no risk money back guarantee on your order ( excluding shipping charges ).
Return Policy Terms
The return shipping costs are borne by the buyer. All kinds of customs fees, brokerage fees, duties, taxes, etc. are also the buyer's responsibility for BOTH ways. After receiving the artwork safely, refund for the price of the artwork will be provided. Return shipments of paintings must be made via a TRACKABLE and SIGNATURE REQUIRED service. I will provide a refund as soon as the artwork is delivered. I provide a full refund only if the item is damaged or if the wrong item is shipped due to my own mistake. Please DO NOT accept the package if it is damaged, claim a file and let it return to me. I am unable to provide a full refund, if the buyer signs and accepts the damaged package. Because if the recipient signs the delivery forms and takes the package, that means the shipping company has done its work and the package has been delivered safely. If the damaged package is not accepted by the recipient, the shipping company automatically covers the insurance and I can provide you a full refund.Please contact me if you have any problems with your order. Please note the following is required for a returns request to be accepted:it has to be less than 14 days since you have received the artwork the artwork must be in the same condition as it arrived and in appropriate packaging––ideally in its original packaging please note artworks must be carefully readied for return shipment in their original packaging* in order to qualify for a refund it is important therefore that you take care when unpacking received artworks For artworks that arrived damaged we ask for a photo of the damage to be provided so that the artist can learn more about what went wrong with their particular shipment