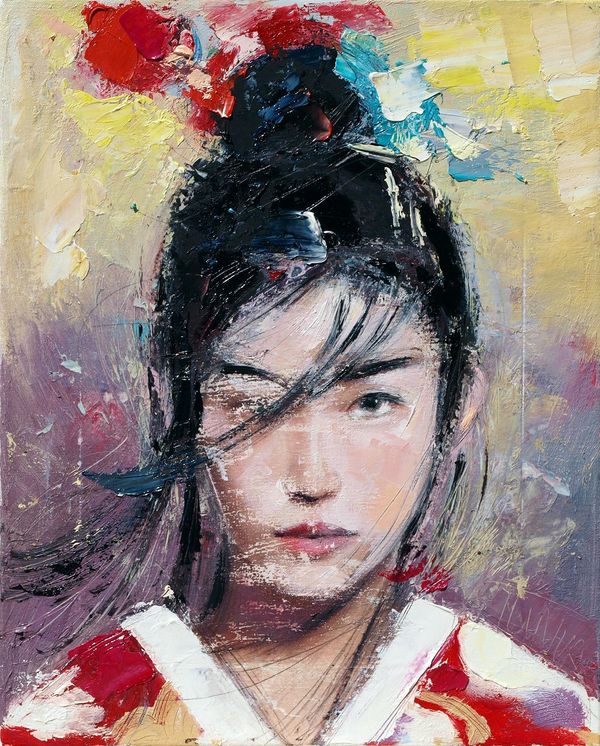 Asian Girl (L'une 68 - 3)
, 2019
Catalin ILINCA
Oil on canvas
Original Painting, 33 x 41 x 2 cm
Ships from Spain for

£34.88
15% OFF
with code 15OFF4U.
Offered by
Catalin ILINCA
Spain
Return Policy
If you're not completely happy with your artwork, you have 7 days from the date you received the piece to request a replacement or return.
Return Policy Terms
The artwork arrived within 7 days of your request. The artwork is in its original packaging and in the same condition as it arrived.
About Catalin ILINCA
I am a Spain based contemporary artist.
I use different techniques, such as - drawing, painting, photography, illustration. My works contains references to Eastern and Asian culture, films, poetry, literature, art history, merged with my own experiences and ideas, drawing inspiration for my figurative work from life, my own photographs, fashion magazine editorials or movie scenes. I have been painting and exhibiting in Romania, Netherlands, Spain and UK.
I studied painting for 6 years, at University of Arts, Bucharest (graduated in 1997), and Film Direction for one year at Hyperion University (2000/2001), before embarking on a career in graphic design, art direction and illustration. (My graphic design works were published and reviewed in several well-known design magazines and books).
Works in private collections in almost all over the world.
fragments from an interview given to ARTDEX:
/ What motivates you to create? /
I'm a very creative person, so I just create! It's in my nature, I simply can't imagine life otherwise. If I didn't paint or draw, I would definitely write or compose music, or I would make my own movies.
/ Tell us about your artistic style? /
Most of my works are figurative, but I also have an abstract landscapes series. Generally speaking, what we call abstract painting could fall into various genres or categories, but my tryout in this field could be labeled as lyrical abstract. While my work in the figurative area could be simply associated to contemporary realism or contemporary figurative.
I've always been a very versatile artist, I've experienced a lot of different insights and perspectives, I've embraced various styles or genres, depending on my inner evolution and on the faces of my evolution as an artist. At some point in this evolution, I've even felt like creating a new style, a style which I called Magic Expressionism. It's about a series of compositions that remind of the surrealistic current, as I put together elements that have could suggest an oneiric state, but, at the same time, personal manner and the visual expression I used set them apart.
/ Does creating art help you heal? /
Definitely, yes! Both at a personal level and as an artist. I'm going through a metamorphic
process right now. And it's not so simple :) It has its ups and downs, but I'm happy and enjoying it, because I feel I'm on the right track. I don't care how long it will take and how hard it can get anymore, it will probably take me a life time. I've progressively realized that all of my convictions and principles, the image I had of myself, what I thought my personality was like, all these were mainly external programs or patterns I had assimilated during my childhood, from school, family, environment. Many years, I thought that an artist's soul should be torn by a constant inner turmoil and disappointment regarding the present. I thought that frustration was the source and the propeller of creativity. I was wrong and this belief brought me confusion and unhappiness. I'm finally happy I could clear my perspective and realize that being on the dark side is a false and pointless way. I'm glad that people can see now the beauty, the serenity, the inner light in my paintings. I have the feeling that my artworks are always one step ahead of me. They are like seeds I throw forwards on my path and then I get to follow them. To draw a funny parallel - it's like the story of Hansel and Gretel, I follow my work to find my true self just like they follow the little rocks to find their way home. Since I choose the themes of my paintings based on my intuition and they say intuition is your Inner God, I can clearly state that my art indeed helps me heal.
MORE SELECTIONS

FROM Catalin ILINCA
MORE Figurative

SELECTIONS