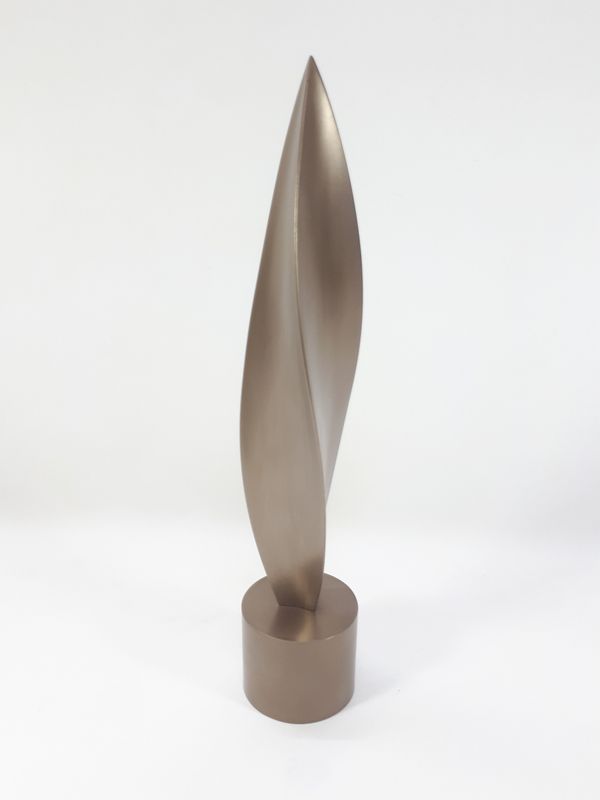 Abstract #1
, 2019
David Tragen
Cold cast bronze
Original Sculpture, 7.5 x 35 x 7.5 cm
15% OFF
with code OTMNWHISPRS.
Free Shipping

from United Kingdom
✔
Certificate of Authenticity

Offered by
David Tragen
United Kingdom
About the Product
The desire to remove the constraint of function from the design process initiated the creative phase with this piece. Foster and Partner's 'Gherkin' has long been a piece of architecture that I've admired and the form in my initial sketches was influenced by its proportions.
The resulting three-sided, twisting sculpture was hand-carved in wood before being made from cold cast bronze and is available in a limited edition of 30.
About David Tragen
I am a British designer and artist who creates contemporary, furniture, wall art and sculpture, handmade predominantly in hardwood. My work is made to order and can be customised to suit my clients' specifications. Clients can also commission completely new concepts and play a part in the design process itself.
My work is inspired primarily by beauty found in the natural world and ranges from minimalist to more complex sculptural forms. The Strata Series hones in on a series of moments in time, translated into layers of the finished piece, which as a whole create a sense of movement. The Celestial Series draws on astronomical objects and phenomena to bring a sense of zen to one's environment.
My journey as a designer and artist began in Barcelona in 1996 where I trained before returning to the UK in 2002 to gain two further years experience in two of the country's leading 'fine furniture' workshops. Running my own business since 2004, my focus is on creating original designs and exquisitely made pieces. My clients, who appreciate the attention to detail which goes into creating a luxury product, have spread from Manchester and Cheshire to the rest of the UK and overseas.