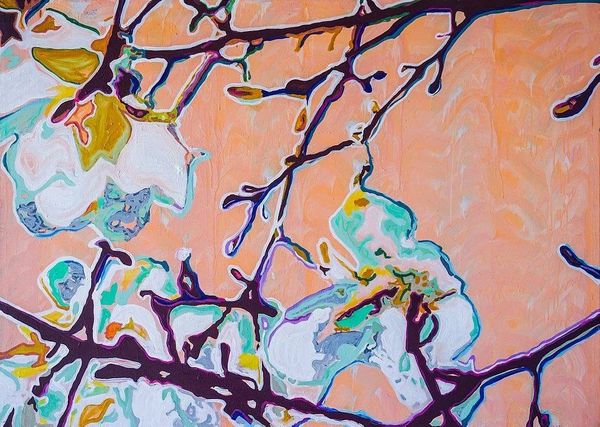 Change Can Be So Sudden
, 2018
Lina Valland Lyngset
Giclee print on canvas
Original Print, 70 x 50 x 4 cm
Unique Edition, 1 of 1
Free Shipping

from Germany
Offered by
DELI ART GALLERY
Germany
About Lina Valland Lyngset
COLOUR is my passion and the driving force behind all my pictures. Most of the paintings are made up of several layers of paint, and have different structural surfaces. I let the paintings mature a lot during the process, and work on many canvases parallel. Many of my images have taken many months or even years to be completed
The freedom of the artistic process is important to me. I follow the intuition; the draw in the stomach towards certain colours, lines and motifs. Through painting, I explore emotions and experiences that are not available to me through words. I find that more random techniques such as letting paint drain on lying canvas, assist me in this exploration. Later in the process, figurative forms might recur. The colours often play the main role, and the distinctive expression appears after several layers. Instead of blending the colours completely, I use many different colours side by side in small areas or strokes, and that makes both my paintings and the giclee prints more like chameleons. The colours changes due to lighting and surrounding colours, so they tend to blend in, even if they are perceived as colourful.
My titles reflect my passion for words, poetry and music. Often, I do not know what I'm painting before the title comes to me, and it can happen both early and late in the process. The connection between painting and title / word is incredibly strong for me. When I suddenly "receive" words to a picture I'm working on, it's a strange experience for me. And it's not that I understand everything in my own picture just because that title "belonged to it" To me, words (title) and image can continue to vibrate together in a more or less understandable way year out and year in.
I totally embrace the opportunities computers opens to visual artists, and I often use my mac both before I start a canvas, during the process and after, to make digital giclee prints. For me it is just perfect to be able to use the results of my play with paint in digital work.
Lately my motives circle more and more around nature, plants and flowers. Through those paintings I seek to explore that feeling nature sometimes gives me, especially flowers. Like they speak to me in a language my conscious mind cannot hear, read or understand. A secret code that I only can feel the vibration from.
MORE SELECTIONS

FROM DELI ART GALLERY
MORE Giclée Print

SELECTIONS