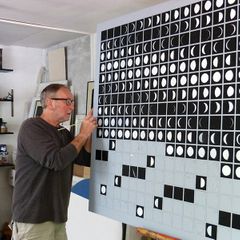 Bob Barron Art
Southampton, United Kingdom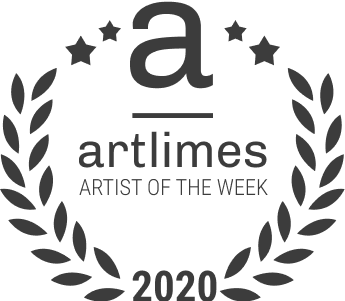 Our
Expert's
Perspective
If you could make the earth stop in its tracks, make all cars go away, replace heroes with statues and plastic soldiers with flowers, how would it feel? If you could stretch beyond childhood, boyhood and adolescence, crip in between now and then and afterwards and forever, what would you find? If you could perceive events from another world, dig deep into the mind of random others, where would it lead? In labyrinthine, chaos, destruction or in a divine reversion of it all? Infinity, rebirth, magic and furthermore, cause the circle of life has no beginning or an end and simply rolls.
The contemporary work of Bob Barron reflects the passing of time, still Graeco - Roman fragments seem to be endlessly battling against the keep-on-moving geometrical symbols; squares, triangles and circles. He also tends to deliberately leave traces of human existence, from domestic objects such as spoons or pottery to imprints of hands and feet. He uses mixed media, discarded box packaging, old roof slate as well as oil on canvas and paper. He loves to experiment using a wide range of colours to produce his source material and bring diversity in his minimalistic yet contemplative style.
This artist is a paradox time-traveller using art as his hypothetical device to move between certain points in time and space. From a stroll around the Roman Times to the Ancient Greece of philosophy and wisdom and from a night visit to a distant dystopia where the only human trace of life is a set of footprints to a harmonious utopia of circle worshippers. Butterflies, rings and palms, illuminated half-moons at limbo darkness, bright glorious suns playing seek and hide with marble busts of mythological gods, classical statues juxtaposed with abstract desert environments and geometry at its best always so precise to define size, shape and dimension of things we never thought of.
Curated by Kelly Kaimaki, Creative Writer / Curator
About
Barron works with mixed media, notably discarded box packaging and old roof slate as well as with oil on canvas and paper. His work tends towards a minimalist, contemplative style and, if it is about anything, he thinks it is about the passage of time made corporeal through certain images, surfaces and textures.
In the oil on canvas works he applies a flat surface with bold, clean lines as opposed to the scored, eroded, textured surfaces of the card and slate pieces.
The oil on paper work began when he accidentally spilt a small pot of liquid paint over some A4 sheets of paper and in attempting to wipe it off, was attracted by the colour and tones that were left. He continued to experiment further using a wide range of colours to produce his source material.
Many works are abstract using geometric shapes of squares, triangles and circles, the latter occurring most frequently as the circle, both as a form and as an idea, is at the heart of our relationship to the world and has shaped the development of civilisations from the most ancient of days.
In other works, he may incorporate Graeco-Roman fragments or references to the cosmos - suns, moons or constellations or to the natural world, a butterfly or a leaf perhaps. He is also interested in leaving traces of human kind: domestic objects such as spoons or pottery and imprints of hands and feet – all aspects of the depth of human life and experience.
The majority of his working life as a full-time artist has been spent in his native North-East of England apart from periods in Australia, Cornwall and London. He has recently relocated and now works from his studio in Southampton.
He has shown widely in solo and mixed exhibitions throughout the country and has works in gallery, corporate and private collections in the UK and abroad. He is also represented in the ArtUK National Collection and in various publications.
www.bobbarron.com
Awards
2014 • American Art Awards
Shows
2023 • Summer Exhibition Klockestrand Skolhus, Redshep Gallery - Klokestrand Skolhus, Kramfors, Sweden
2023 • Marc Bodie Lifelines, Redshep Gallery, Stockholm, Sweden
2023 • Philippe Halaburda, Redshep Gallery, Stockholm, Sweden
2023 • Johanne Brouillette, Redshep Gallery, Stockholm, Sweden
2022 • "Everything you can imagine is real", Redsheep Gallery, Sandöverken, Sweden
Products offered by Bob Barron Art