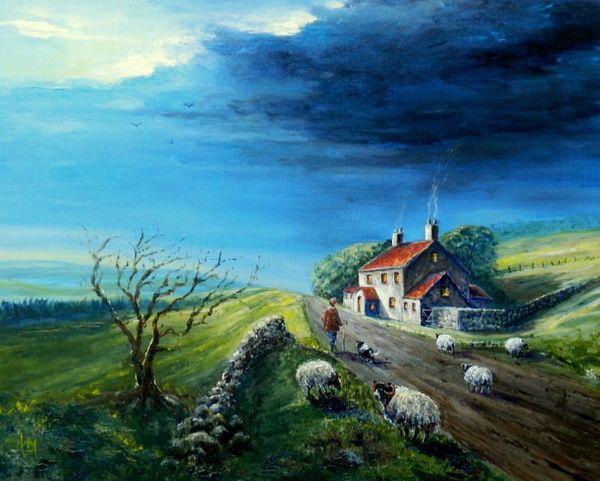 The Warren House Inn, Dartmoor
, 2017
Annie Meakin MA
Oil on board
Original Painting, 50.8 x 40.6 x 2 cm
Free Shipping

from United Kingdom
15% OFF
with code 15OFF4U.


Offered by
Annie Meakin MA
United Kingdom
About Annie Meakin MA
Artist Annie Meakin now lives in the spectacular region of Argyll & Bute in a village near Oban on the shores of Loch Etive in The Highlands of Scotland
The inspiration for Annie's paintings come from a truly diverse range of subjects. Her worldwide travels, and treks to far-flung places, have provided Annie with a bank full of visual images, and now with such breathtaking beauty all around in this beautiful country of Scotland, the subjects are endless.
Annie has a Diploma with Distinction for painting and drawing from The London College of Art. However, it was while studying for her Bachelors and Master of Arts degree in Theology/Spirituality in which she majored on the Art of the Renaissance (her thesis is in the library of Monsignor Verdon of Florence Cathedral- adviser on Renaissance Art to The Vatican), that the inspiration came for the visually graphic and challenging Encaustic Stations of the Cross, which have been exhibited in both Exeter and Truro Cathedrals. Encaustic is an ancient discipline using molten wax, which is why Annie has used it mostly for her sacred artworks.
Annie paints in both Oils and Watercolour depending on the mood and scene in focus. Indeed, when approaching any artwork, Annie reminds us that it can be a window into the Spirit of the artist, forming a bridge from our physical world into something that can be experienced beyond our senses. Think of the times when a piece of artwork has stopped you in your tracks or taken your breath away. ...Just be open to be changed for that moment in time... It might surprise you….
MORE SELECTIONS

FROM Annie Meakin MA