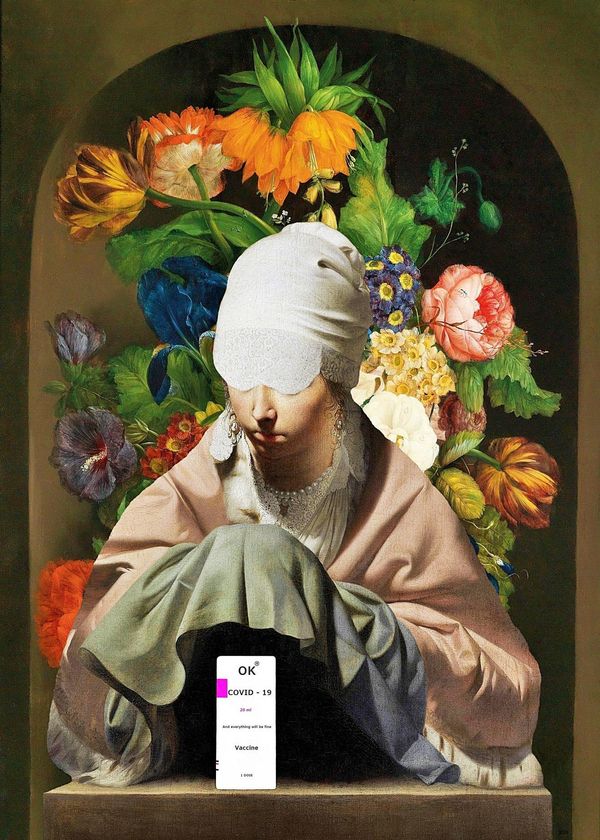 OK
, 2022
Paulo Vilarinho
Giclée print with UltraChrome K3 pigmented inks. Hahnemühle Museum Etching Paper 350gsm.
Original Print, 54 x 74 cm
15% OFF
with code OTMNWHISPRS.
Free Shipping

from Portugal
✔
Certificate of Authenticity


Offered by
Paulo Vilarinho
Portugal
About the Product
Exclusive Limited Edition 1/1
To be sold with a very special friendly price to celebrate my 50th anniversary with Art Collectors. Thank you for all your support!!
Plus I reserve an Artist Proof print for Expo purpose. Not for sale.
This piece makes part of an ongoing series of artworks called "Recycled" which I've started producing at the end of 2017.
In this series I revisit old masterpieces (mostly from Renaissance until Neoclassicism) to extract personages or sceneries...modifying and mixing them (via... Digital Photographic Manipulation) and this way creating new possibilities in an unexploited context.
To this purpose I also introduced what I consider "the magical enigma" of Surrealism and mixed it with a small dose of Pop Art's contemporary irreverence.
All this mixture between different Art periods and technics intents to work catalysing the observer to travel within his own visual memories (from Art History) searching for the originals and then recycling them with a whole new interpretation.
Through all this process the viewer becomes my accomplice.
Size: 74 x 54 x 0.1 cm (unframed) / 70 x 50 cm (actual image size). Printed with 2 cm white border.
Mix of digital photo collage / manipulation done by me, creating an original artwork that was exclusively Giclée printed on paper.
Using an Epsom Stylus Pro 11880 Printer with UltraChrome K3 Pigmented Inks on Hahnemühle Museum Etching 350 gsm / 100% cotton pulp / acid free paper.
Giclée print with UltraChrome K3 pigmented inks.
Hahnemühle Museum Etching Paper 350gsm.
Signed on the front, but also named/ dated/ numbered/ signed on the back.
Free shipping
Certificate of Authenticity.
© 2022 Paulo Vilarinho aka Vila.
About Paulo Vilarinho
Paulo Vilarinho aka Vila, born in 1972.
Visual Artist from Portugal
"Vila show us a singular mixture between order, beauty and chaos... deeply inspired by Movements like Surrealism, Pop Surrealism, Pop Art, Street Art.
The viewer is subtly invited into each work... to process and decode all the available information."
Represented in multiple Art Collections from... Portugal, France, Germany, Austria, Turkey, Saudi Arabia, Canada, United States and United Kingdom.