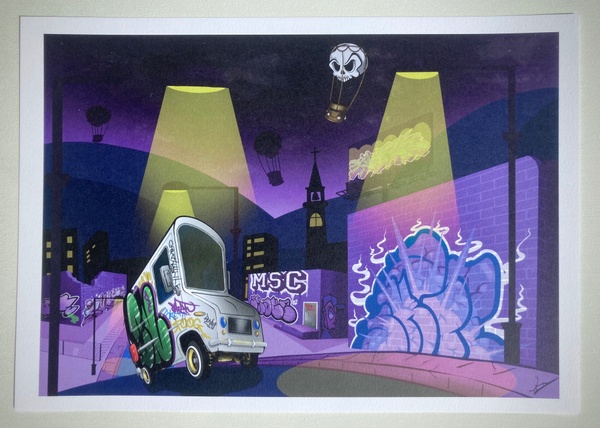 Roll out of here.
, 2022
Skatin Chinchilla
High quality digital art print
Original Print, 29.9 x 42.2 cm
Limited Edition of 5
Ships from United Kingdom for

£20.00
15% OFF
with code 15OFF4U.
✔
Certificate of Authenticity


Offered by
Skatin Chinchilla
United Kingdom
About Skatin Chinchilla
Self taught Graffiti artist, well established through out Europe, having started his career in Amsterdam and show casing work in various cities in Europe. Now settled in Brighton, UK. His work can be seen in streets and galleries around the world.
The driving force behind Skatin Chinchilla's unique style is a strong personal love of traditional graffiti styles, hip hop and skateboarding culture.
Making letters, throwing styles, busting out characters and anything in between. Think, Illustration meets graffiti.
Starting his career in 2008, His distinctive style can be instantly recognised, combining graffiti letters with characters in vibrant, loud colours. Bringing life and visual excitement to the cities he paints in.
MORE SELECTIONS

FROM Skatin Chinchilla
MORE Digital Art

SELECTIONS