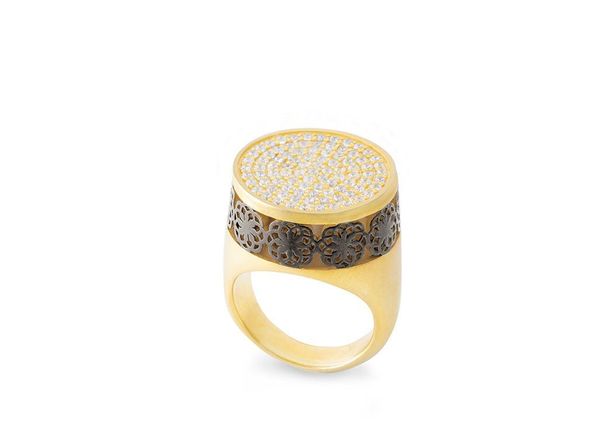 Blossoms
, 2021
KERAS DESIGN by NADIA EMMANOUIL
18K yellow gold, brushed finish and black patina, ring's face diameter 1,9cm, white diamonds 0,91ct
Original Jewellery, 1.9 x 2.7 x 1.9 cm
15% OFF
with code OTMNWHISPRS.
Free Shipping

from Greece
✔
Certificate of Authenticity


Offered by
KERAS DESIGN
Greece
About the Product
BLOSSOMS is a jewellery collection inspired by the eternal light of ancient Greek art and mythology.
Symbols and patterns like SFONDYLI (ACROPOLIS MUSEUM exhibits) become the canvas for our creations.
All of our jewellery is custom made by order. Create your own one by choosing the combination you prefer as well as the size:
Yellow gold / White gold / pink gold
White diamonds / Black diamonds / Brown diamonds / Yellow diamonds
Emeralds
Sapphires blue/pink
Rubies
Tsavorites
About KERAS DESIGN by NADIA EMMANOUIL
Nadia Emmanouil
Endless and ongoing Greek history and mythology inspire Nadia Emmanouil the designer creating the KERAS concept.
Designing pieces of jewellery and décor, based on the minimalistic perspective of ancient Greek art, is Nadia's most recent activity.
The transformation of patterns and symbols into contemporary art objects continues her use of interior design in forming unique creations utilizing precious metals and stones.
KERAS is an evolving concept that is proudly presented in selected museum shops and art foundations in Greece and begins her journey throughout the world.