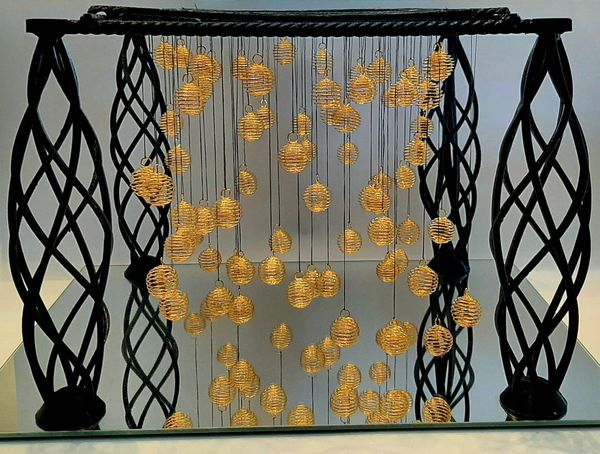 Temple of Time - Gold
Kurotory
Gold plated pendula in a 3D printed resin structure
Original Sculpture, 45 x 35 x 40 cm
15% OFF
with code OTMNWHISPRS.
Ships from Belgium for

£29.44
✔
Certificate of Authenticity

Offered by
Kurotory
Belgium
About the Product
Resin structure with 75 gold-plated pendula in a constellation of a Lissajous knot.
The number of pendula is symbolic for the average age in the first world. When shaken, each pendulum moves at a different oscillation speed.
The temple is supported by 4 spiralling pillars, symbolising the evolution of Time.
About Kurotory
Kurotory is a painter and a digital visual artist. In addition to using traditional painting techniques, he also creates digital artworks and serigraphs on various base materials by using optical and mathematical image processing concepts. Kurotory draws inspiration from the insights of Martin Gardner and is influenced by Op-art and Popart artists such as Andy Warhol, David Hockney, Victor Vasarely, Bridget Riley and Reginald Neal.