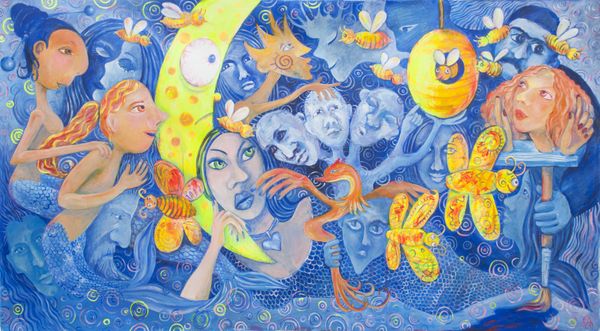 Do The Bees Sleep At Night?
, 2017
Vio Valova
Acrylic on canvas
Original Painting, 172 x 95 cm
Ships from Ukraine for

£44.11

Offered by
Vio Valova
Ukraine
About Vio Valova
Hello, thanks for visiting my page. Sorry for not being around for a long time. I had a really difficult period in my life even before the war in Ukraine. Now even more… But life is going on and I came to the point to make some order in my private and professional life, in my brains and in my online shops. So, I'm back :)
Am an artist from Ukraine. Also, I am doing designs and photography. Because of the war, I moved to the Netherlands, Limburg.
Art is my life, my job, my way of thinking and feeling, my style and sense of life, my religion. The main theme of my art are people. People around me, people in my heart, in my head, people in my imagination; their lives, emotions, behavior, relationships, habits, singularities and even madness. I think life is a very strange thing, so I prefer to look at it with humor, sometimes ironic or even sarcastic. Most of my works have a story, contain hidden (or double) signs and sense. Very often they have prototypes from real life. Blah blah...
MORE SELECTIONS

FROM Vio Valova
MORE Surrealism

SELECTIONS