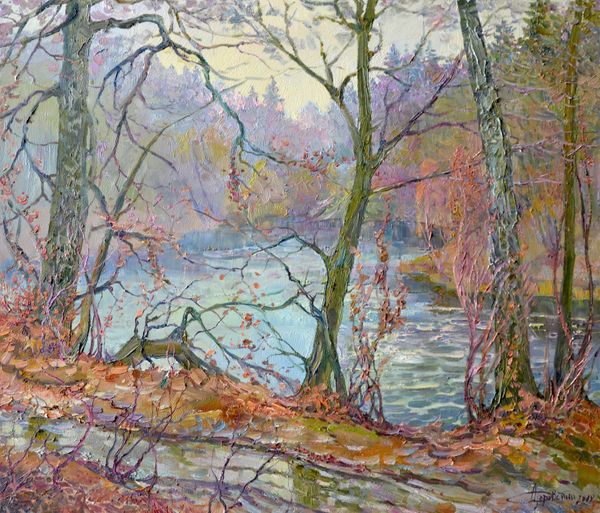 Morning
, 2008
Aleksandr Dubrovskyy
Oil on canvas
Original Painting, 70 x 60 x 2 cm
Ships from Ukraine for

£26.34
✔
Certificate of Authenticity
About Aleksandr Dubrovskyy
Mr Aleksandr Dubrovskyy was born in 1949 in Oryneno, Khmelnytsky Oblast, Ukraine.
He started painting early. The painting was his most favoured occupation, beyond all usual boyish interests and activities.
At 7 years he was admitted to the art school for children in Yenakiieve; at 16, Aleksandr entered Kharkiv College of Art (1965).
In 1969, graduating from the College of Art, he travels a lot and works assiduously on portrait and landscape painting.
His continuing work at the academic villa in Sednyov offered Aleksandr a happy and unique opportunity to work together with, and learn from, such eminent painters as Konstantyn Lomykin, Fedor Zakharov, Nikolay Glushchenko, Viktor Shatalin, and Tatyana Yablonskaya. They have profoundly influenced his artistic formation. Sednyov... this marvellous nook of Ukraine became the artist's creative workshop.
Mr Dubrovskyy's early works are bearing a noticeable mark of impressionism. This style will become one of the dominant in his later works.
The sphere of his artistic interests is very extensive. He paints colourful landscapes, still life, genre pictures, and executes monumental orders. His whole life will be embraced by this parallel: painting and monumental art.
Since 1972 he participates in personal and republican art exhibitions in Ukraine. 1973-1975, participates in international art exhibitions in Japan (Tokyo, Kyushu) in Ms Nakamura's galleries.
1976-1985, as a member of creative groups, engages in multiple trips to development areas of Far East, metallurgical works, and Druzhba gas pipeline construction area. His works in this period are exposed at renowned art exhibitions of the Soviet Union.
One of the paintings of this period, "12-pump plant", is exposed in the Art Museum of Horlivka, Donetsk Oblast.
Since 1987, member of the prestigious Union of Painters of Ukraine.
1985-1993, creative work and personal exhibitions in Algeria.
Algerian exotics made an overwhelming impression on the artist. He was avidly capturing every image: people, customs, strange, beautiful nature, animals, colours of the sea and skies. Surrounded by the picturesque enchanted landscape views, the vivid colours, and the originality of this country, Mr Dubrovsky creates a series of mind-blowing pictures, such as "Sahara Desert", "Desert Roses", "Wedding Caravan", and others.
The paintings from his personal and international art exhibitions held in Algeria were sold to private collections of many countries of the world (Italy, France, Belgium, Poland, Russia, Japan, Algeria, England, Germany, Canada, USA...)
In 1992, together with a group of painters from Saint-Petersburg, participates in art exhibition held in the ERCOLE gallery in Paris.
The abbot of St. Mina Copt Orthodox Monastery invited Alexander Dubrovsky to Egypt to create a series of genre works of encaustic tiles. Before he proceeded to make the mosaic works, Mr Dubrovskyy visited museums and temples of Italy and Egypt. In Italy, he was in awe of mosaic works of old age artists, and the specificity of Copt iconography, all subject to stylization and symbolism, impressed him as the art itself caught in its momentum.
Considering art to be the embodiment of all the best things ever created by mankind, Alexander decided to introduce drawing and colour into his works. His intent was favoured with the great colour diversity of encaustic tiles available in the monastery, and he was able to fulfil his dream to execute mosaic works in an "impressionist" style.
Roman and Florentine mosaic become a new direction of his creative work.
One may say that it was God's hand that led Aleksandr Dubrovskyy to St. Mina Monastery.
...In the 3rd century, Mina dismissed from his military officer service in Algeria and retired to the desert, undertaking the labour of fast and prayer. He had a vision of Jesus Christ who fortified him and told that after his death in that place a church would be built where miracles and healings would be worked.
From 1995 to 2004 in the rebuilt St. Mina cathedral Aleksandr Dubrovskyy created genre mosaics of biblical scenes: "Agony in the Garden", "Christ the Pastor", "Flight into Egypt", "Christ's Entry into Jerusalem", "Israelites crossing the Red Sea", as well as worked on the dome, ornaments, and naves.
The monastery where those mosaics were installed is protected by UNESCO.
In 2003-2006 Alexander Dubrovsky made mosaic scenes in St. George Cathedral of Vydubytsky Monastery in Kyiv, Ukraine (St. Princess Olga, St. Prince Vladimir, Venerable Sergiy of Radonezh, Great Martyr Varvara, St. Ksenia the God's fool of Petersburg, Great Martyr and Healer Panteleimon) on the invitation of the abbot, father Sebastian.
For all these years, combining his work on easel painting and mosaic, Alexander has been conveying a vast and varied gamma of colour nuances of high purity, which he considers to be indispensable for the creation of expressive and substantial artistic images.
Each and every minute of his life belongs to art...